I remember we had a thread a while back about building your own house.
Recently I'm considering going back to the States, maybe rural Maine.  I'm determined to keep the yolks of rent and mortgage debt off me.
Land is cheap enough, beautiful land at that.  Farming, fishing, whatever you want.  And free wood too, which is a big help for heating.
So I've been running a few ideas around in my head.  I want something that initially gets me sheltered and living decent on the cheap and fast.  
I'm not adverse to camping.  Hell, I spent half my life camping.  But that's only May to October.  Wintering in a tent sucks.
A couple ideas that I've been kicking around:  One is getting a cheap used camper, something functional with plumbing and electric.  Either that or getting one of those shed kits and winterizing it.  You can get a gigantic shed for $3000-4000 USD.  And if you hang insuluation and put up wall board, it's winterized.  Go with propane hot water, wood heat.
Anyway, my research led me to a building style I'd never heard of before.  We're talking dirt cheap housing here, and literal dirt at that.  It's called Earthbag, and I'm reading about these guys building houses for under $1000.  These things are self insulated and flood and earthquake proof to boot.
Best of all, as we discussed before, framing and building require a lot of skill and experience.  But with earthbag building even novices are generally successful on their first attempt.  I mean you still gotta plan it out and do everything right, and it's a fuck of a lot of work to build one of these bitches.
Basically the idea is you get polypropolene bags, like 50 or 100 pound bags that animal feed comes in.  You fill 'em with earth from your site and stack them like bricks with barbed wire between each row.  The idea is that these will "cure" and meld together over time, giving you a rock solid heavy duty motherfucker of a house!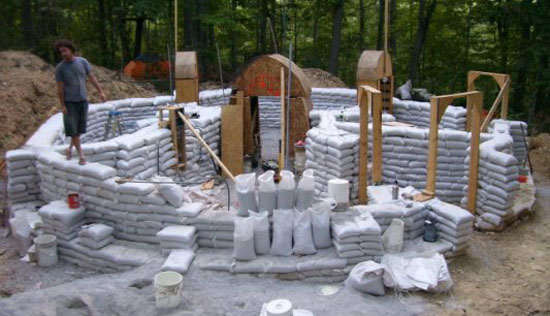 For the foundation you can just dig down to the mineral level and fill your first couple rows with gravel.  I already read about some spray on compounds you can buy that will make soil harden like asphalt.  Saving you a lot of money since you don't need to get a slab poured.
These buildings can be build as domes, or wall structure with a wood framed roof added.  If you're gonna go the dome route you can't build too large, but you can join circles together and make a house with seperate rooms, replete with spires.  For straight walls  you can go as huge as you want.  Check it out on youku.com.  Just search "earthbag" and you'll see a timelapse video of two guys building a medium sized earthbag house in Alaska.  
Bear in mind that's not what your final house will look like (stacks of bags) cuz the final step is to plaster up and seal everything.  Google up earthbag homes to see the crazy cool shit people are doing with this method.  Hell, if you went with a metal roof or a simple dome, you could build a fucking small house for under $700, including the timber framing for the doors and windows and the roofing.  After that, sure you'd need outfit it with systems.  But the thing is you could go pretty cheap there too.  My idea would be to hire a backhoe to dig out the foundation and then an angled trench leading to a pit.  Fill the pit with gravel and cover with topsoil.  Then I'd have all the earth I need to fill the bags and have a solid natural septic system with a leech field.  Of course that won't pass building codes near most towns, but then again neither would this house.  Meaning you gotta build this sucker somewhere rural without codes.  I looking at pretty big tracts of land for under $10,000, all wooded.  And these are within a half hours driving distance to towns with shopping and supermarkets, so good enough.  You might even be able to pull this off closer to town.  I can think of some areas.  As long as your out of the town borders you may be alll right.  
Anyway, blah blah blah.  I'm seriously considering doing this.  Might work on Fire Island too, now that I think about it.  I dont' think they're too strict with codes there.  And this kind of building is way better than those shanties a lot folks of live in.  An earthbag house will easily stand up to earthquake, flooding, whatever.