Robert Black's Podcast, leaving London and Meditation
Can't listen cuz I'm on work bandwidth which I need to conserve. Will check it out later.
_________________

Notes:

So many anecdotes in you! I'm not a people person and not at all detail oriented, so not many stories to tell about any of them.

You're going to Germany? I thought you were heading to Taiwan? Is this Taiwan via Germany somehow?

My meditation is my fantasy world.

You following the news today, not the MSM? Paris is fkn on fire, muzzie rioters are attacking cops. It's spread from suburbs to downtown.

Yeah if you can stick to weak beer, it's probably fine. I can't. A couple beers in and I'll switch over to the hard stuff, every time.

Your podcasts sound like memoirs.

Did you notice that Admin on TBJ resurrected an old thread about you and pondered what you were up to? You quite *explicitly* forbid me to say word one about you over there, so I didn't comment.

Shit. He probably reads this board, like the rest of those voyeurs.





_________________

Was that months ago, or recently?

I saw one months ago, but it died a natural death.


Nope, couldn't be more current.  He did it on Feb 16.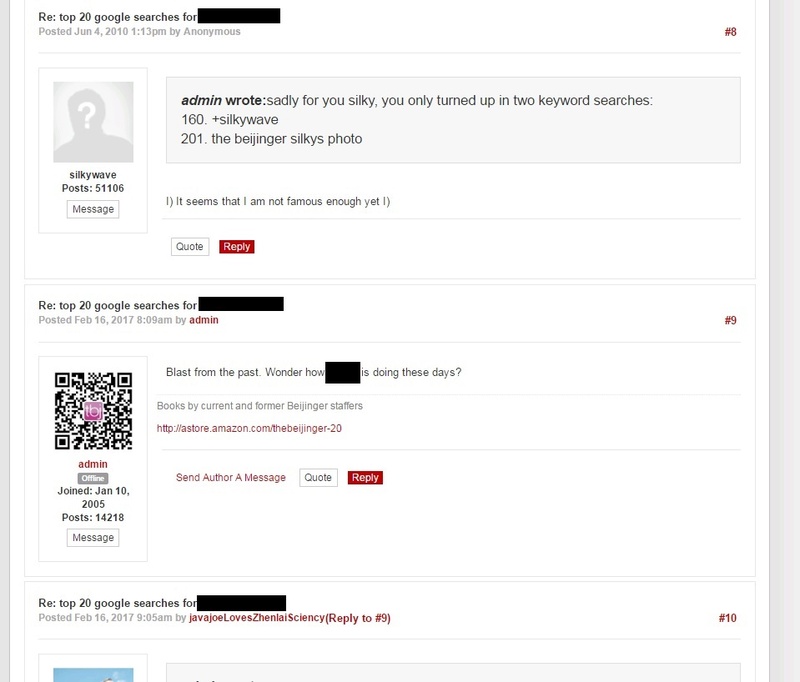 Blotted out a real name for the screenshot.... cuz we have
standards
around here at least.

_________________

How pathetic, that thread was deleted by Goolge in UK and NZ.

I would say it is because 1. Admin is a fag, 2. The views on that pathetic site are close to negligible.

But hey Admin, no one gives a fuck anymore.

You may get a reply from MK though, another male obsessed with me.


I like the way he pretends to not have Googled me or read the posts here
Well Admin, I aint been in Beijing pulling my pud, Germany, New Zealand, Gold Coast, Paris, London...


Fucktard.

I saw a pic of his other half once, OMG talk about Planet of The Apes reject.

Mind you, it could be anyone.

The new admin was actually quite a cool guy.
Anyway, whatever reason for it, it failed its stalkie purpose.
One reply by Booby, off the topic.
That pretty much sums up TBJ for the last five years.

He did drudge up a very old thread with your name on it. That means he searched it out specifically, cuz most of those have been deleted. It is kinda weird, but maybe he drinks two. Admin is kinda like a non-entity on there and always has been. He's come on with a wry comment here and there, and always gets kudos... just cuz he's admin, no other reason really.
_________________